MAKE IT PERFECTLY YOURS!
Designed by Interior Couture
Perfect to create a calm and collected dining tablescape in your space!
Our contemporary table linen collection is designed to
be
versatile and sophisticated, effortlessly transitioning between a casual dinner and extravagant entertaining.
Layer for visual interest by starting with a tablecloth or two, adding long and cross runners, and finally placemats to define your place settings.
Available in easy care heather linen, luxe chenille and pure linen, these essential pieces will add fresh colour and texture to any table in your home.
.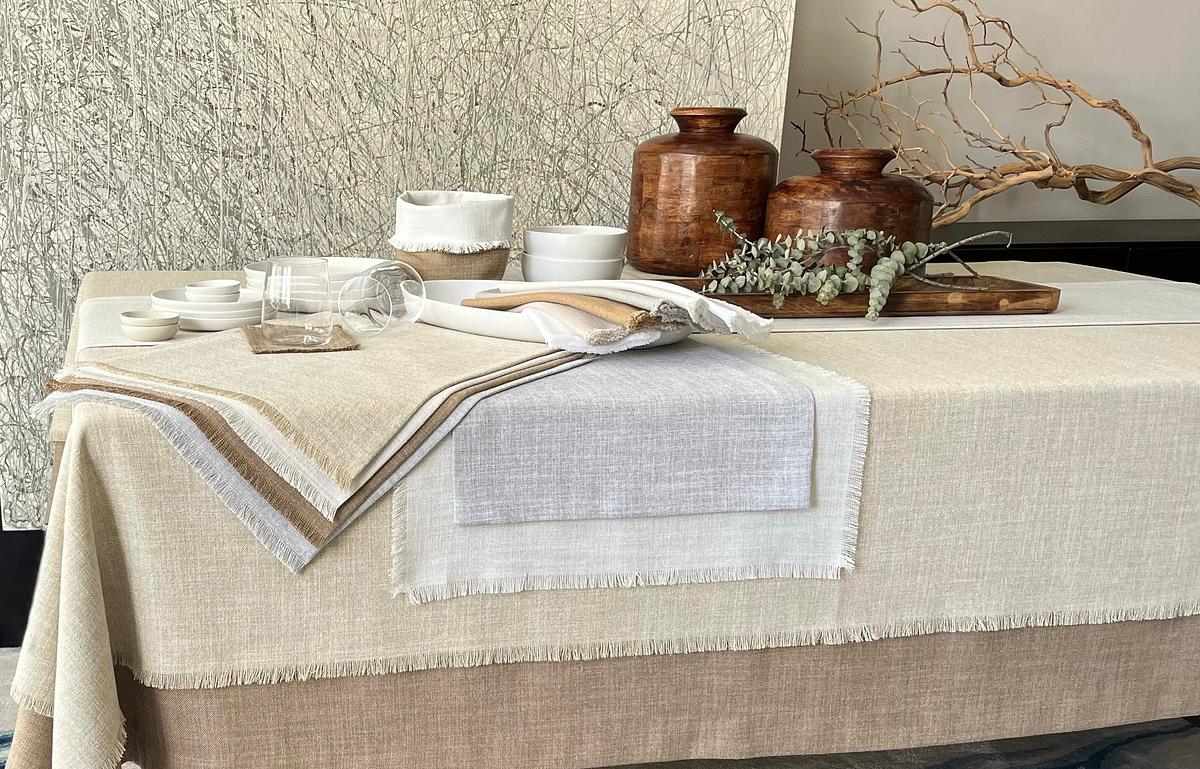 The Tablecloth
A tablecloth perfectly proportioned to your table and dining chairs is achieved in studio by hand cutting and finishing to measure for a perfect fit! Classic or hand fringed hems available.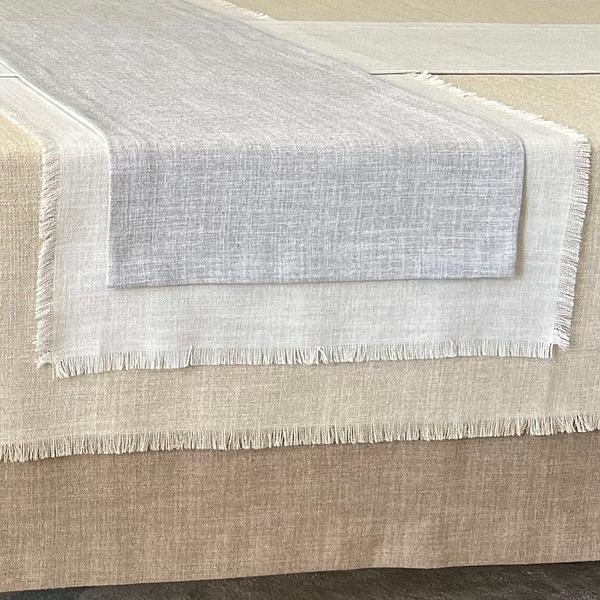 Runners, the long + short of it
Down the length or several shorter placed across at different intervals, runners define the top, adding colour and surface appeal. Of course, cut to measure to work perfectly with your tablecloth.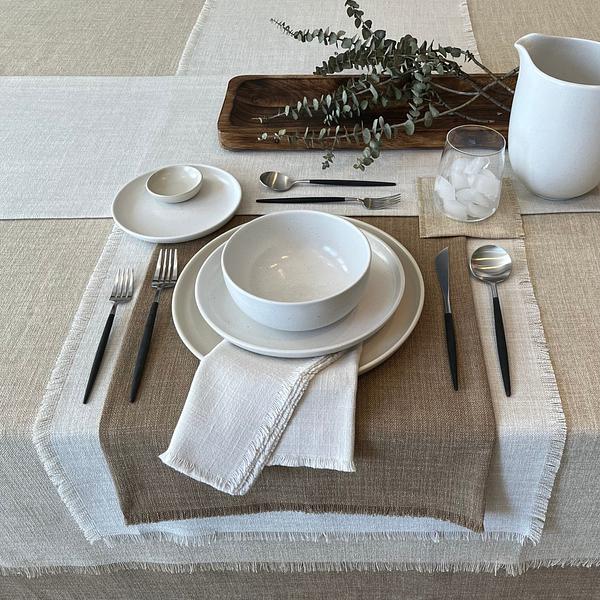 Place Settings
Work your layering up with placemats and napkins, chosen to complement your dinner and glassware, creating a story for your family and guests.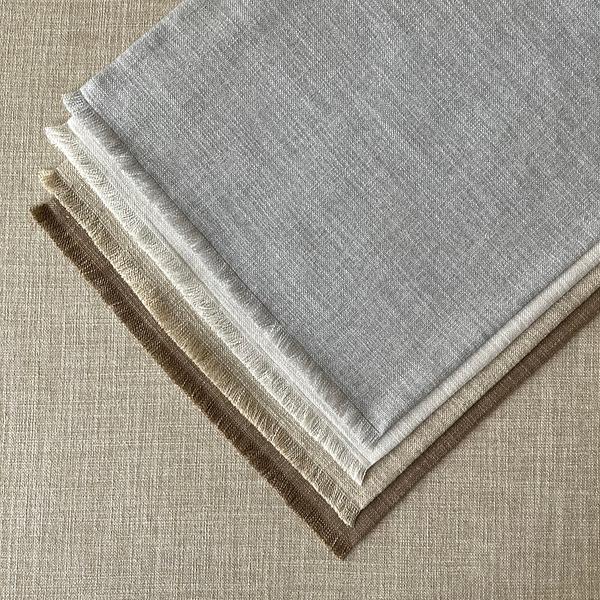 Placemats
Simple and defining, our nomad hand fringed double layer placemats are in.heathered linen. Easy care, machine wash and dry.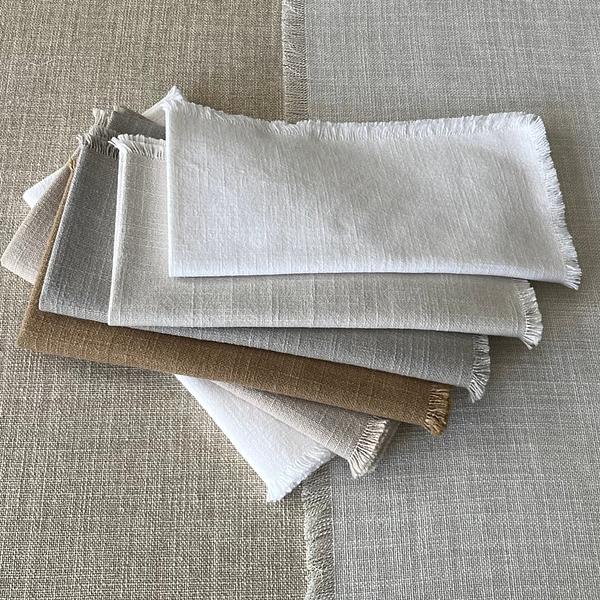 Napkins 
Laundered cotton with hand fringed edges. Classic edge is made to order only. 12 colours stocked. Additional colours available made to order.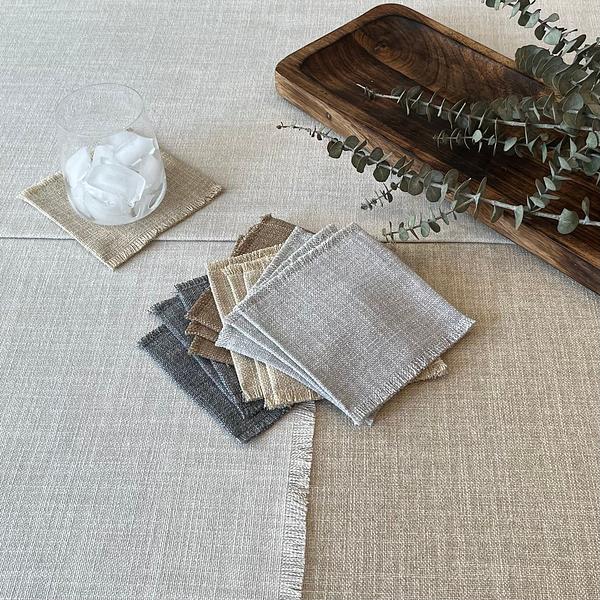 Cocktail Coasters
Hand fringed, sets of six. Limited availability.
.
Plan ahead!
All of our custom us handmade with care in Canada!
Custom work takes time and planning! Order 3-6 weeks before delivery.
We also provide cut to measure heat resistant and
waterproof pads to protect your tabletop.
We can help inspire you and answer your tablescape questions!